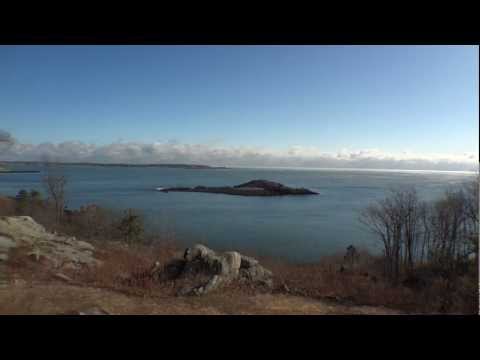 "Sea Smoke" is the "fog" one sees rising from the ocean when the air is much colder then the water. It is very difficult to photograph due to its transient, hazy properties. It is most common at sunrise, usually the coldest period of the evening. As the sunlight warms the air the temperature, the temperature difference between the air and water tends to moderate and the wafting, steamy quality of this event disappears.
Wikipedia describes the phenomena in the following manner: Evaporation from exposed water surface depends upon its vapor pressure. If the water temperature is greater than that of the nearby air, the evaporation continues faster than the air can absorb the water vapor, even though the cool air's relative humidity is 100%. This further evaporates immediately and re-condenses as visible fog, which rises up in convective currents.The conditions required for such fog formation include not only low surface temperature but also a preexisting surface inversion of temperature to inhibit the rapid development of instability.
Not only is Sea Smoke difficult to capture on film it is downright eerie in person and an accurate predictor of one cold morning here in Gloucester!!!